from The Guardian, Thursday 19th December, 2013
When Paul Torday, who has died aged 67, published his first novel, Salmon Fishing in the Yemen, in 2007, its phenomenal success led to a remarkable new career for him, at an age when others might well have been contemplating retirement. Despite his newfound fame and the book's worldwide popularity, however, he continued to work in industry, although for the remaining years of his life he also published, generally to critical acclaim, a sparkling new novel every year.
What Paul never publicly disclosed was that this extraordinary output reflected a personal race against time. Having wanted to write all his life, he was faced with a cancer diagnosis shortly after his first book was swept away on the whirlwind of an international award-winning literary sensation and he recognised the extent to which his time might be limited.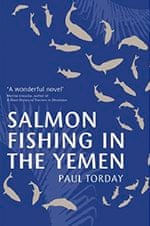 He wanted to find what he termed the "ultimate story", one that would bewitch readers, and he went on writing compulsively because he was still trying to find out what it was. To this end, each of his seven novels explored a different genre. Paul admitted once that, after discovering his ability to get published, he perhaps treated writing like learning to ride a bike: he kept pedalling like mad because he was afraid that if he fell off he might not be able to get back on. He sometimes suggested that he might stop writing, but never really meant it, and at his death left uncompleted yet another novel.
He was too ill to attend the glamorous premiere in 2011 of the film of Salmon Fishing in the Yemen, which starred Ewan McGregor, Emily Blunt and Kristin Scott Thomas. Reviews of later books were sometimes less enthusiastic, as is the fate of authors who score a hit with their first novel, but The Irresistible Inheritance of Wilberforce (2008), the story told backwards of an alcoholic's decline through an addiction to fine wine, was greatly admired and Paul had the satisfaction of knowing that film rights to another of his books, The Girl on the Landing (2009), a subtle ghost story, had been acquired by Julian Fellowes. His most recent book was Light Shining in the Forest (2013), a crime thriller about abducted children set in the north-east of England.
It was his experience in the oil and gas industry in the 1990s, coupled with an acute understanding of the insanity of much government bureaucracy, that inspired Salmon Fishing in the Yemen. Paul was a profoundly funny man with a developed sense of the absurd, and he was at a business meeting in Oman when he had the idea of creating a Yemeni sheikh who wanted to introduce salmon fishing to his desert homeland. He sent the manuscript to an agent, forgot about it and six months later found that his work had been the subject of a competitive auction and shortly thereafter that he was the talk of the Frankfurt Book Fair. He particularly enjoyed the fact that Yemeni tourist organisations were later often asked for details of their fishing holidays.
He was born in Croxdale, County Durham, the eldest of three sons of Laszlo Torday (originally Tordai) and his Irish wife, Eileen (known as Penny). His father had emigrated from Hungary with his parents in the late 1930s and the family settled in the north-east as government grants were available for business set-ups. Laszlo was a physicist and his father a scientist and they founded an electroplating business that would develop into marine engineering.
His business career was initially one of considerable success as the company expanded and he took over its running from his father and uncle. The expansion had been too swift, however, and the firm had to be sold in the 1990s. Paul found a job with another engineering company and through a gritty determination retrieved his career and went on to purchase several other companies.
He seemed a quiet and placid man, exuding the air of the English country gentleman, but it was the very fact that he was not English that fuelled his enthusiasm for the lifestyle. He enjoyed the good things in life, food and wine and salmon fishing. He liked shooting and walking and climbing and living in comfort, preferably with dogs as part of the family. He was also phenomenally well read, played Mozart on the piano and when his children were little would draw them charming cartoons.
He is survived by Penelope, his sons Piers and Nick, and two stepsons, Jonathan and Charles; and three grandchildren.
JULIA LANGDON
Other obituaries: